How SERVPRO Remediates Commercial Flood Damage in St. Petersburg
8/29/2019 (Permalink)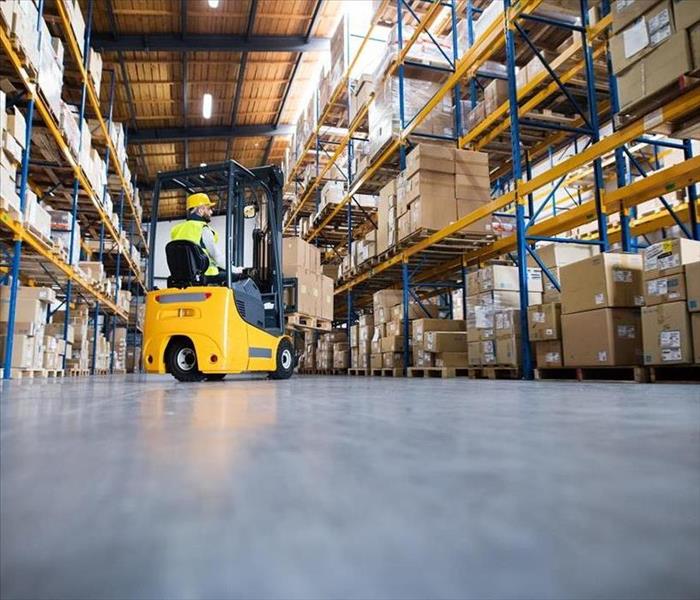 Don't let water damage your warehouse inventory. SERVPRO has the know-how to quickly remediate the situation.
Limiting Loss with Commercial Flood Damage in St. Petersburg Warehouse
No type of water damage is more concerning than when it involves a business storage area, especially where there are a significant number of stock items not yet sold. If they are a water loss, even with reimbursement through insurance, the financial hit for replacement of these items is detrimental to the bottom line of the business.
When the remnants of a tropical storm delivered heavy rains to the St. Petersburg area commercial flood damage struck a local furniture warehouse, and fast action was crucial. Our technicians arrived within an hour of the call and immediately began moving out the boxes of furniture to our climate-controlled facility for secure storage. This is important because:
Excessive moisture warps and swells hardwood.
Particle and composite wood furnishings generally do not fare well when they undergo prolonged exposure to water.
Porous objects absorb moisture and may emit musty odors unless treated.
Boxes located at the warehouse entrance where the floodwater came in were saturated, and the soggy cardboard required disposal. Fortunately, we found the plastic-wrapped furnishings inside were in good condition for restoration services.
SERVPRO technicians know dealing with the temporary closure of your business, repairs from flood damage and other water loss issues is a stressful situation. We communicate with both property owners and insurance adjusters to ensure everyone is on the same page for each phase of restoration services. We also ensure any efforts completed by us is within the scope of coverage.
After the removal of the stock, we quickly extracted the remaining water on the cement floor of the warehouse and set up our air movers and dehumidifiers. Because this site stored both upholstered along with solid wood furnishings, odor control was essential. We made sure upon completion of restoration services, the warehouse had zero musty odors and was ready to store stock again.
Contact SERVPRO of NE St. Petersburg at (727) 522-0000 when you need assistance with commercial flood damage mitigation. Our certified, trained technicians can handle any storm or water damage in your property and make it "Like it never even happened."
More about St. Peter­­­­­sburg.